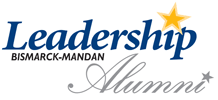 Home » About LBMAA »
About LBMAA
In 1990, a great tradition was started in Bismarck-Mandan. The Bismarck Mandan Chamber EDC introduced the Leadership Bismarck-Mandan program. The graduates of this program are now serving their communities in a variety of ways. We are active in Chamber EDC activities, serve on the boards and committees of many nonprofit organizations, and volunteer in numerous roles.
The Leadership Bismarck-Mandan Alumni Association (LBMAA) vision is "to improve the community through our collective leadership efforts."
Members and prospective members are encouraged to contact any of the officers or directors. The LBMAA Officer's link above will take you to a page that contains their contact information as well as an e-mail link. Please give them a call. Our officers and directors would be happy to talk with you about your suggestions or concerns.
LBMAA does a lot of things for a lot of people, but perhaps the best thing it does is to renew our commitment to our community, by keeping us involved with each other and through that involvement — keeping the leadership spirit alive.